Legal Support for YouTuber
The management of online influencers requires know-how that differs from that of traditional entertainment production and media management. We understand the intricacies of Japanese law and the characteristics of the Internet, enabling us to provide strong support for your company to transmit information through a system that is continually updated with the latest Japanese legal information.
YouTube channels managed by YouTuber agencies, companies that operate Virtual YouTubers(VTubers), and business companies all need legal advisors with specialized know-how and experience in Japan.
Our clients include major Japanese YouTuber Management Companies, prominent individual YouTubers, and various VTubers business management companies across Japan. We also provide highly specialized support in drafting and reviewing YouTuber and VTuber-related contracts and addressing legal issues related to video creation in Japan.
Necessity of YouTube-related Legal Counsel
YouTuber

A YouTuber with more than a few hundred thousand channel subscribers is a single entity and needs an agent.

YouTuber Management Companies

There are specific precautions and checkpoints to consider for YouTuber management, client projects, and other contracts.

Virtual YouTuber

Contracts and M&A in the area where IT and entertainment intersect is an extremely specialized field.

YouTube channel
for Business Company

When operating a YouTube channel, you will need a main legal advisor and a separate lawyer for YouTube.
YouTubers and Virtual YouTubers need legal advisors who are familiar with channel management and contract execution.
Contracts
In Japan, YouTubers and VTubers generally sign a management contract with an agency to carry out their activities, while in some cases, they sign a contract with a company and engage in advertising activities.
Traditionally, management contracts between entertainers and entertainment agencies, as well as advertising contracts between entertainers and companies were used in the Japanese enterntainment industry. However, YouTubers and VTubers are slightly different from traditional entertainers because of YouTube's terms and conditions.
A lawyer with knowledge and experience in Japanese contracts related to YouTubers can help you smoothly conclude a contract with the essential points. Our Japanese legal experts are well-versed in the unique aspects of the Japanese market and online video platforms.
Creating and Publishing Videos
When creating and publishing YouTube videos, it is essential to possess legal knowledge in various areas, such as copyrights for the music and objects appearing in the video, portrait/privacy rights, and advertising regulations that may be problematic when introducing cosmetics and health foods in Japan. Lack of legal knowledge in these areas can lead to the risk of having your videos deleted or, in the worst case, having your account banned in Japan.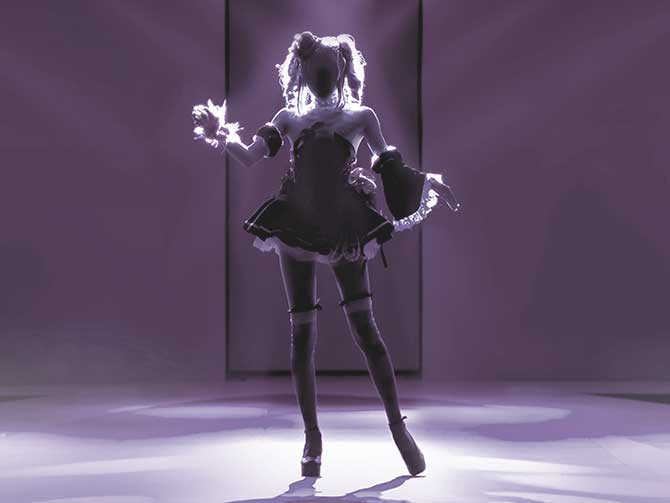 Legal Support for VTubers
Since 2017, when VTubers themselves were in their early days, MONOLITH LAW OFFICE has been handling VTuber legal affairs, including various contractual relationships and dispute resolution, for individual VTubers and their related companies and offices in Japan.
Our legal team has the experience and know-how to solve the very complex issues related to VTubers, such as copyright issues of illustrations and CG, ownership of YouTube channels and characters, and the rights relationship between the person himself/herself and the owner.
Terms of Use for YouTube and Other Media
When operating a YouTube channel in Japan, an understanding of YouTube's terms of service is necessary as are the legalities. Even if a video is legally acceptable, it may be subject to deletion or an account freeze if it violates the terms of use. Our firm possesses the know-how and understanding of YouTube and other media's terms of use as well as Japanese law.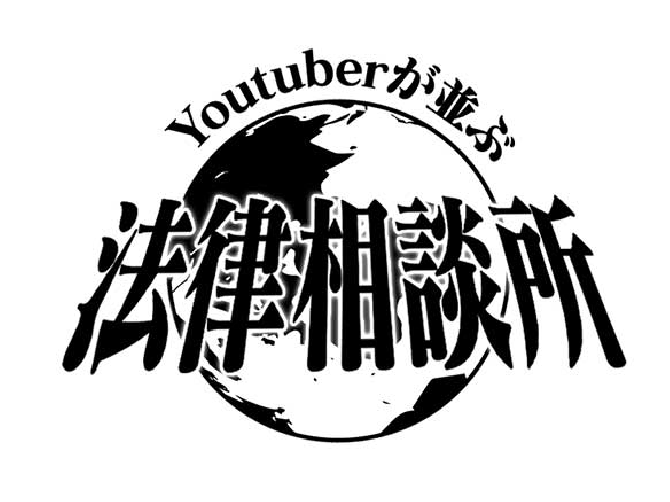 Our YouTube Channel
Our YouTube channel "Legal Counsel for YouTubers" explains legal issues related to YouTube through conversational videos featuring a lawyer in the appearance of a VTuber, a friendly character with a high level of expertise.
We deliver legal knowledge for Japanese YouTubers from various angles each time, so we recommend our channel if you are already running a channel or are about to do so in Japan.
We recognize that attorneys assisting YouTubers and YouTube-related business operators require more than just knowledge of abstract legal theory. Deep insight and understanding of the YouTube platform are crucial in providing effective legal support in this field.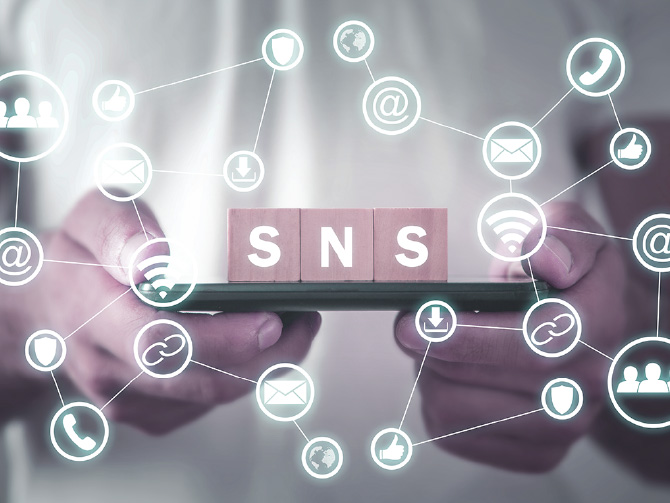 M&A of SNS
YouTube channels and Twitter accounts, as well as websites, are subject to M&A,.
However, due to the specific features of these M&A, a law firm with specialized knowledge and experience in the Japanese market is essential.
From small amounts to over 100-million-yen deals, MONOLITH LAW OFFICE has handled numerous M&A transactions as a law firm with strong expertise in the IT business.
We assist you in every step of the process, from drafting contracts to conducting due diligence (DD) for YouTube channels and other businesses.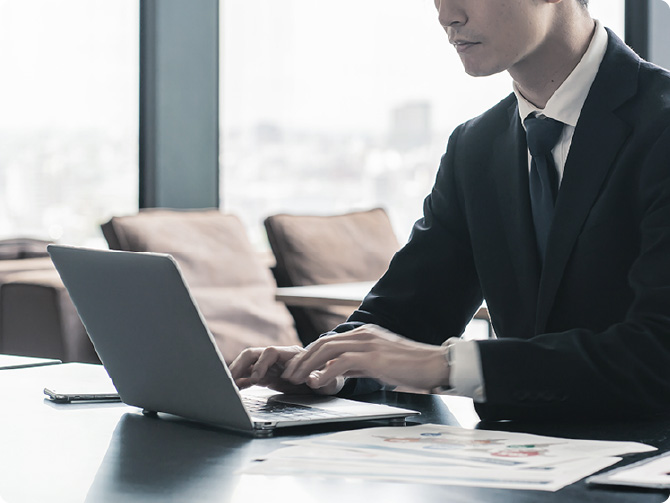 IT
System development in the field of VTubers, for example, is an extremely specialized area in Japan.
Knowledge of intellectual property rights is essential to controlling the handling of videos, images, and productions that occur in SNS operations.
Our firm's representative attorneys have experience as IT engineers and provide services in disputes and the prevention of system development issues.
We provide highly specialized IT and IP-related legal support to numerous companies, including TSE prime listed companies in Japan.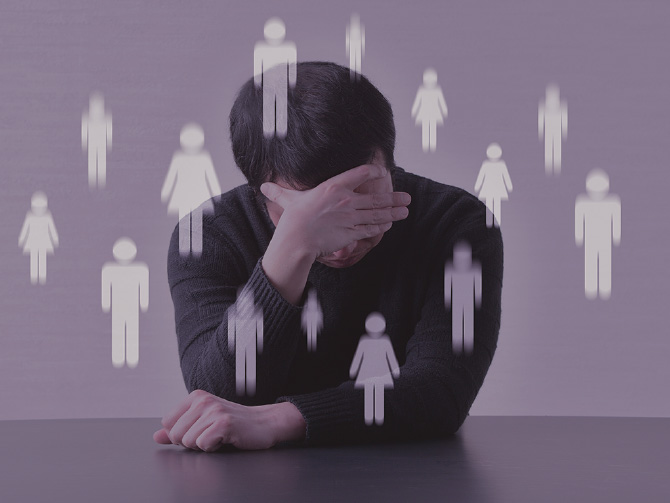 Countermeasures Against Reputational Damage
As YouTubers and VTubers gain viewers, they may suffer from reputational damage on the Internet. However, we believe that countermeasures should always be taken against excessive slander and the leakage of personal information.
Our firm has extensive experience and expertise in removing and identifying authors of rumors on the Internet.
We have received numerous requests from clients ranging from TSE prime listed companies to individuals, demostrating our commitment to protecting the reputation of YouTubers and VTubers in Japan.
Writings and other activities related to YouTuber/VTuber legal affairs
YouTuber and VTuber legal affairs are highly specialized areas.
Our founding lawyer engages in writing and other activities related to these fields.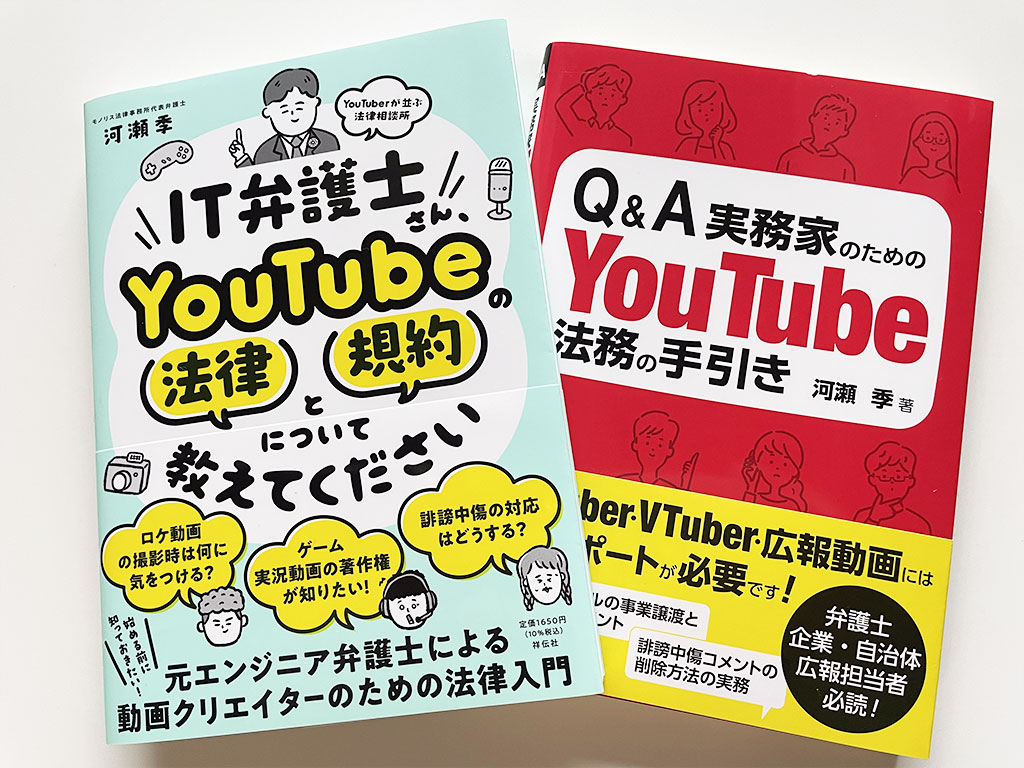 Publications as a Lawyer Specializing in YouTuber and VTuber Legal Affairs
Our founding lawyer published "IT Lawyer, please tell me about YouTuber laws and terms of service", a book discussing different legal issues surrounding Japanese YouTubers in a Q&A format. Some topics discussed include "Is stealth marketing a violation of the law?", "Is it necessary to blur license plates?", and etc.
Another publication, "A guide to YouTube-related laws for legal professionals" a practical guidebook regarding YouTuber legal affairs, for lawyers and corporate PR agents.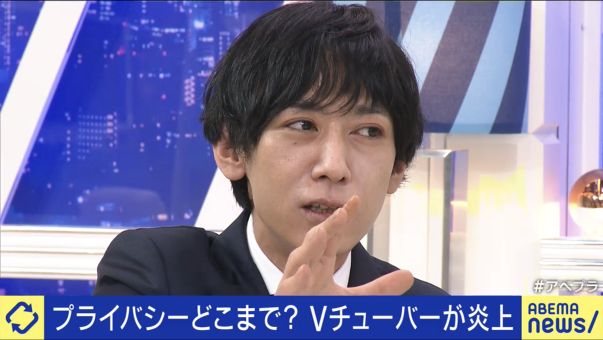 Our Founding Lawyer Made a Guest Appearance on "ABEMA Prime"
Our founding lawyer was a guest on the broadcast of "ABEMA Prime", one of the most popular live-streaming shows in Japan.
He made a guest appearance as an attorney with expertise in legal issues related to YouTubers and VTubers.
February 16, 2022:legal issues such as the privacy of VTubers
May 20, 2022:legal issues of severe backlash to influencer
Examples of YouTubers and VTubers as Clients of Our Firm
*This is a partial list of companies that have given us permission to disclose that they are our clients, or that are registered as directors.
In fact, we work on projects for many clients, including freelance YouTubers.
In principle, we will keep your identity confidential under a confidentiality agreement.
Fee Structure
In certain instances, we may consider accepting a dispute or lawsuit with an initiation fee and a contingency fee. For more details, please feel free to contact us.

Drafting Contracts

from

$500

to $2,000 or more

The pricing structure is subject to variation based on the type and quantity of contracts. We are pleased to offer a preliminary estimate upon inquiry, thereby encouraging you to reach out to us for further details.

We offer a wide range of services including company formation, contract review, legal opinion, case review, or research letter. Should you have any inquiries or concerns, we cordially invite you to contact us and our knowledgeable team will be happy to assist you.