Mitigating Reputational Damage
In our modern society, companies, regardless of their size are intertwined with the IT field, consequently exposing them to risks of reputational damage. We have a dedicated team that can respond quickly to unpredictable situations and prepare your company for a crisis.
In Japan, it is common for attorneys to manage cases related to the reputation of companies and individuals on the internet. For example, if a company or its executives or employees who have expanded into Japan become victims of defamation or slander on the internet, there is a possibility that an attorney can resolve these issues. In Japan, rights such as personal or corporate reputation and individual privacy are protected by legal proceedings. Lawyers can utilize negotiation or legal procedures, including litigation, to potentially have defamatory posts removed. As a law firm leading internet law in Japan, we have extensive experience and expertise in handling cases related to defamation on the internet within Japan.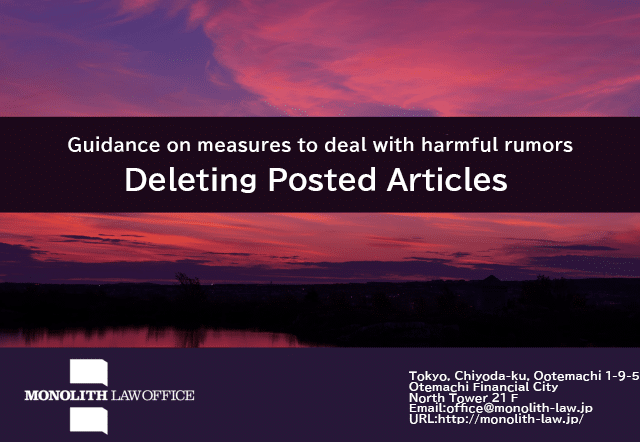 Reputational Damage Page Removal
If a website operated by a Japanese company or a website hosted on servers in Japan, or if a web service operated by a company that conducts business in Japan, becomes a victim of defamation, it is possible to engage in negotiations or legal procedures based on Japanese law to request the removal of the offending content.
We seek to remove reputational pages through out-of-court "anti-transmission measures requests" or through a court of law using a trial or the expeditious "provisional disposition" procedure.
We have a great deal of experience and unique know-how in the area of removal requests, and have successfully removed reputational pages, bulletin board postings, and social networking postings that other law firms have been unable to handle.
*We also have specialized resources available. Please feel free to contact us.
Examples of deletions by our firm: Target Sites
2channel, 5channel, Google search results, Google Maps (My Business), Yahoo! Finance, Food Log, Amazon customer reviews, Girls Channel, Bakusai, Mansion Community, Hostlove, and various other bulletin board sites. Asahi Shimbun Digital, Sankei Digital, LINE News, etc. Sankei Digital, LINE News, other news sites, Yahoo! Chiebukuro, NAVER summary, phone number search (jpnumber, etc.), 2channel copy sites (Logspeed, 5chan-rebyu, etc.), Livedoor Blog, FC2 Blog, Ameba Blog, Hatena Blog, etc. Other various blog sites, YouTube, Nico Nico Douga, FC2 Video, and other video sites. MILKCAFE, openwork, Lighthouse (former Kaisha's Reputation), other job review sites, other original domain sites.
Examples of deletions by our firm: Deleted Contents
Exploitative company's reputations, slander and libel regarding products, false statements regarding crimes committed or relationships with anti-social corporations, false facts that a person has committed a crime, news regarding criminal records, denial of character, false facts that a person has committed stealth, fraud, tax evasion or embezzlement, violation of business rights or business conduct, violation of honor and sentiment, invasion of privacy, fraudulent obstruction of business through the transmission of false information, copyright infringement, trademark infringement, portrait right infringement, so-called "spoofing", gender-related, celebrity-related, and other infringements. Falsehoods, copyright infringement, trademark infringement, portrait right infringement, so-called "spoofing," sexual relationship, private life of a celebrity, and other facts related to private life.
Under Japanese law, only lawyers have the authority to remove webpages or posts that contain defamation. It is illegal for individuals without a legal qualification or companies to engage in webpage removal.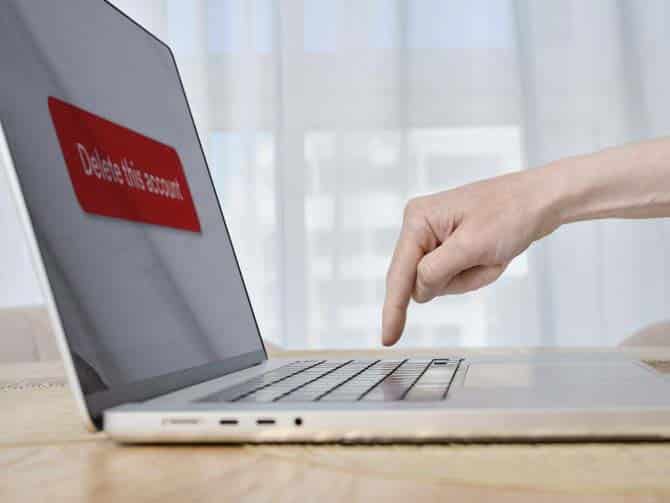 Removal of Past Unwanted Info
MONOLITH LAW OFFICE specializes in resolving the challenge of managing one's online presence, particularly for individuals involved in the entertainment industry. We understand that information, both official and unofficial, can have a lasting impact on personal and professional lives. Our firm offers comprehensive solutions to address these concerns, utilizing a unique combination of legal expertise and information technology. Whether it's removing unwanted content, managing digital footprints, or navigating "right to be forgotten" issues, we provide a one-stop solution to safeguard your online reputation.
Trust MONOLITH LAW OFFICE to protect your privacy and ensure a seamless transition to your future endeavors.
Deletion from search engine results
Japanese case law provides a remedy for individuals and companies who have suffered from defamation or privacy infringement in the form of requesting the removal of search results from search engines. This means that even in situations where the defamatory content exists on websites hosted on servers located outside Japan and operated by anonymous individuals, and it is not possible to directly request the removal of the page itself through the court, there is no need to give up. Even if the page itself cannot be deleted, it is possible to request search engines to cease displaying the page in search results.
Even if a specialist who is unaware of this case law has made a judgment stating that "removal is not possible," we, as a law firm well-versed in Japanese internet law, may be able to propose alternative measures. Please feel free to contact us for further assistance.
*Note: Court proceedings are not necessarily burdensome.
Page removal is possible through a procedure called "provisional disposition" instead of through the court. This procedure is only a "one-size-fits-all" approach compared to removing reputational pages through IT technology (reverse SEO). That is why it is critical that we understand both approaches correctly before deciding which procedure to proceed with.
| | Reverse SEO (IT Technology) | Provisional Dispositions (Legal Proceedings) |
| --- | --- | --- |
| Effective rumor page | Pages with low search engine ratings | Illegal page |
| Required Budget | Approximately $3,000 per month for a contract period of 6 months to 1 year | One time only, approx. $6,000 |
| Required timeframe | Approximately 3 to 12 months to see results | Removal to be completed in about 1 to 3 months including preparation. |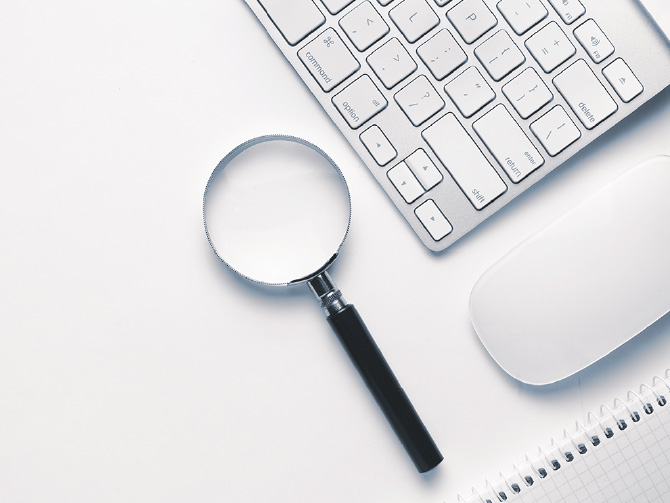 ID of the Defamatory Statement
If you are faced with a rumor that is having a negative impact on your company`s reputation, it is possible to uncover the identity of the poster. In some cases, identifying the contributors may make it possible to file a claim for damages against the perpetrators. We have experience in identifying posters of various types of rumors, including slander, invasion of privacy, and identity theft, on sites ranging from social networking sites such as Twitter to anonymous bulletin boards such as 5chan. We have worked with a wide variety of clients, including TSE prime-listed companies, prominent executives, various business companies, and famous YouTubers. We have a proven track record of identifying the posters of such rumors.
MONOLITH LAW OFFICE is committed to providing clients with the highest level of Internet protection, and has been working to resolve "reputational damage" that exists on the Internet that could negatively impact our clients' sales, job listings, and qualifications for the initial public offering. We offer comprehensive solutions to these problems.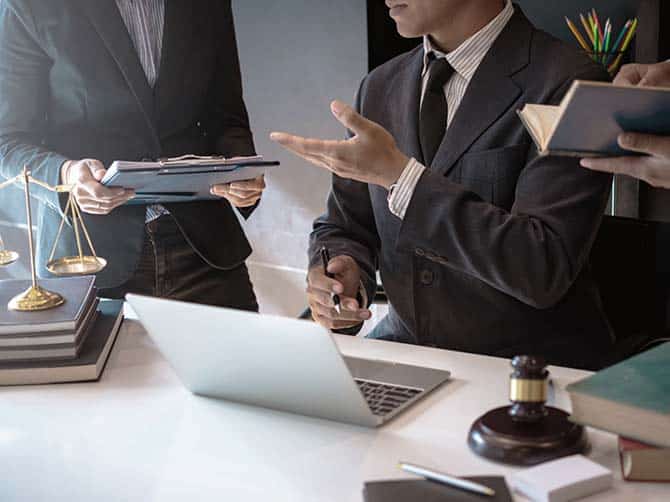 Corporate Reputation Management
When a large company faces reputational damage due to numerous negative web pages on the Internet, addressing the issue becomes complex. Prioritizing which pages to remove and assessing the cost-effectiveness of removal efforts pose significant challenges. As a law firm equipped with both legal expertise and IT consultancy, we offer comprehensive solutions tailored to these complex problem scenarios.
Our team of lawyers and IT consultants provides expertise in priority setting, designing key performance indicators (KPIs), and estimating cost-benefit ratios in relation to budget allocation. We approach the situation similar to consultancy firms, offering strategic guidance and analysis to navigate the process effectively.
With our combined legal and technical knowledge, we help large companies combat reputational damage by developing a comprehensive plan that considers both legal implications and the practicalities of online reputation management. Trust us to guide you through this challenging process, ensuring the best outcomes for your company's reputation.
Comprehensive Consultation
If you provide us with the name of your company (product name or service name), we will perform a free initial diagnosis of the damage situation on the Internet.
We will propose specific solutions tailored to your company's detailed needs.
We can provide a comprehensive solution for your company's overall reputational damage for a fixed monthly fee.
We can provide a one-stop service for all your company's reputational damage measures.
We can also provide a comprehensive solution in cooperation with an IT company with which your company already has a business relationship.
*We also have dedicated materials available. Please feel free to contact us.
For example,
our firm would not require a "list of pages to be removed" to the clients we provide total consulting services for reputational damage prevention.
We believe that the investigation and analysis of the damage and the creation of a plan to solve the problems your company is facing is our job.
There is an assumption among many people that it is inconvenient to request a lawyer.
This may be so because many people believe that lawyers only do the work that you specifically ask them to do. For example, let's say your company is being slandered as a "exploitative company" that is not grounded by facts, and this is having a negative impact on talent attraction. You may believe that your company needs to figure out which specific pages to remove, and make a proposal on your side for the lawyer to respond to your requests. However, it is difficult for companies that do not specialize in IT to examine these matters internally and come to a conclusion.
Our firm handles the entire series of work from start to end: surveying and analyzing the client's damage situation, setting priorities for the issues, proposing a concrete plan, and then implementing reputational damage countermeasures according to that plan. Therefore, you do not need to identify the specific problem in order to seek advice from us.
If we know your "needs," we can conduct our own investigation, and in many cases, a more accurate analysis is possible if we conduct the investigation on our end, which handles many reputational damage countermeasures.
Comparison with other companies, etc.
Under Japanese law, tasks such as requesting the removal of web pages or identifying individuals who have engaged in defamatory postings can only be undertaken by lawyers. It is illegal for IT companies or any other non-legal entities to engage in such activities. Therefore, outsourcing these tasks to non-lawyer entities would be considered an illegal act. Dealing with online defamation requires the involvement of lawyers who specialize in internet law.
However, in Japan, there are not many law firms that have extensive experience and a proven track record in internet law. We would be grateful if you could contact our law firm, which possesses the specialized knowledge, experience, and know-how in internet law.
| | |
| --- | --- |
| General Law Firms | Page Removal and ID of the Defamatory Statement |
| IT Firms | Web Monitoring and Reverse SEO |
| MONOLITH LAW OFFICE | Page Removal, ID of the Defamatory Statement, Web Monitoring and Reverse SEO |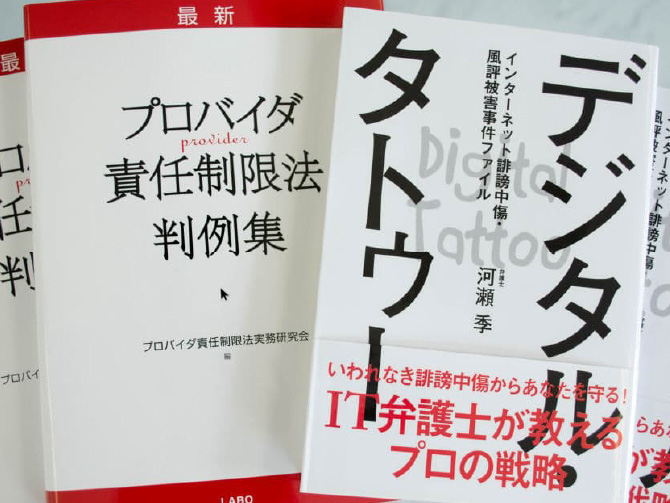 Publications as a Lawyer Specializing in Mitigating Reputational Damage
Participated in writing "Judicial Precedents of the Provider Liability Limitation Act," a collection of judicial precedents on reputational damage countermeasures, as part of the Practical Study Group on the Provider Liability Limitation Act formed by attorneys.
「Published "Digital Tattoo – Internet Slander and Reputational Damage Case File" from Jiyuukokumin-sha, the publisher of "Gendai Yogo no Kihonjitsu" (Basic Knowledge of Modern Terminology), and was in charge of drafting the NHK Saturday drama "Digital Tattoo" based on this publication record.
Fee Structure
In certain instances, we may consider accepting a dispute or lawsuit with an initiation fee and a contingency fee. For more details, please feel free to contact us.

Drafting Contracts

from

$500

to $2,000 or more

The pricing structure is subject to variation based on the type and quantity of contracts. We are pleased to offer a preliminary estimate upon inquiry, thereby encouraging you to reach out to us for further details.

We offer a wide range of services including company formation, contract review, legal opinion, case review, or research letter. Should you have any inquiries or concerns, we cordially invite you to contact us and our knowledgeable team will be happy to assist you.