IPO in Japan
MONOLITH LAW OFFICE is a legal firm having a strength in providing support for IPOs, particularly in the IT venture sector, within Japan. We possess extensive experience and legal knowledge in the field of IT, enabling us to offer optimal solutions tailored to our clients' needs, including foreign companies aiming for listing on the Japan Securities Exchange. Our firm is committed to delivering flexible support that aligns with the requirements of our client companies, both domestic and international, utilizing our expertise in Japanese legal practices and regulations.
MONOLITH LAW OFFICE, a specialist in Japanese law, has a proven track record of successfully assisting numerous IT venture companies in Japan in their IPO processes. We have been involved in various aspects within the Japanese legal framework, including the development of necessary contracts and internal regulations, creation of legal documents, adaptation to Japanese legal reforms, and conducting legal due diligence in Japan. Our firm is capable of addressing a wide range of essential tasks for IPO support in Japan. We strive to provide flexible support that meets our clients' business needs, implementing a strategic approach to expedite and facilitate the IPO process efficiently within the Japanese market.
Roles of IPO Support Players and Law Firms
IPO preparation is an effort to meet the stringent examination standards of the Tokyo Stock Exchange (TSE) in Japan, and it's a crucial process to obtain qualifications as a listed company in the Japanese market. The examination standards consist of formal standards and substantive examination standards.
The central goal of IPO preparation in Japan is to achieve the level of a listed company in a wide range of factors such as shareholder composition, executive structure, structure and conditions of group companies, internal control systems, business content, risk management, competitive advantages and future prospects for products and services, financial statements (BS/PL), business plans and medium-term management plans, transparency of related transactions, compliance with Japanese regulations, relationships with anti-social forces, stock structure (third-party allotment, new share options, class shares, etc.), and timely disclosure of corporate information as required in Japan.
In IPO preparation within Japan, preparatory activities are needed to enhance long-term corporate value and promote sustainable growth in accordance with Japanese standards and regulations. For example, this includes the establishment of an internal audit room to organize and implement internal audits, organizational restructuring to design internal regulations and ensure legal compliance with Japanese laws, the strengthening of staff to build an appropriate internal management system, and the verification of operations.
Thus, IPO preparation in Japan is an essential step for envisioning the future of the company and building healthy growth and credibility in the Japanese market. Cooperation from various specialists, as listed below, is necessary to make the listing successful and to lay the foundation for realizing a long-term vision within the context of Japan's unique market conditions.
Lead Underwriting Securities Firm

The lead underwriting securities firm plays an indispensable role in listing. It becomes involved several years before a company begins considering listing and takes on the role of lead underwriter during the preparation stage and at the time of public offering and sale. The lead underwriting securities firm offers extensive support to the listing applicant company. During the listing preparation stage, it provides advice on formulating capital policies, business plans, and organizational structures, and offers support in preparing listing application documents and advice for Tokyo Stock Exchange (TSE) examination. Moreover, it handles financial procedures and the formation of an underwriting syndicate group at the time of listing. It also takes care of the creation and submission of documents to the TSE at the time of listing application.

Audit Firm

The audit firm plays a significant role in the IPO preparation process. It is responsible for tasks like short reviews and audits of financial statements, and provides audit opinions for documents such as securities registration statements. It plays a vital role in conjunction with the lead underwriting securities firm and gets involved in auditing activities approximately two years before the listing.

Law Firm

Lawyers in law firms play a wide-ranging role in IPO support. They provide advice on organizational design based on company law, the construction of management control systems, contract relationship maintenance, labor management, and tax measures. They also handle the organization of litigation and dispute matters before listing, and get involved in dispute resolution as needed. Additionally, there are many cases where lawyers are appointed as external auditors in the composition of the board of directors.

Other Consultants

Other specialists are also involved in IPO support. For instance, shareholder services agencies handle the creation of shareholder registers and the processing of voting rights, and printing companies assist and provide in creating IR materials. These players collaborate to build an effective IPO support system and support the successful listing of the company.
Success Stories of Support Provided by Our Firm
SaaS Startup

When assisting SaaS startup companies in their IPOs, it is necessary to address specific challenges such as compliance with regulations and stock exchange rules, privacy protection for customer information, security measures, and intellectual property rights protection for software. Our firm, with its specialized legal knowledge in the IT field, provides IPO support that addresses these unique challenges.

Media Operation

For companies engaged in web media operations and similar activities, solving legal issues specific to intellectual property compliance, handling advertising revenue and copyright matters, and ensuring privacy protection are crucial during the IPO process. As a law firm with experience and expertise in IT and intellectual property law, we offer one-stop solutions for various challenges.

Embedded System

Supporting the IPO of companies with advanced technology requires addressing legal challenges that demand specialized knowledge, such as handling technical patents, establishing licensing agreements, and dealing with patent-related matters. Additionally, if the company has a long history, there may be issues related to corporate law and the operation of general meetings of shareholders. Flexible support tailored to the characteristics and needs of our client companies is essential.

with M&A Experience

Companies that have undergone mergers and acquisitions (M&A) in the past often face complications in labor and regulations, which can become apparent during the IPO preparation phase. As a law firm with extensive experience in M&A support, Monolith Law Office provides comprehensive support for the necessary preparations that such companies should undertake before going public.
Listing Examination Standards and Ensuring Compliance
In the process leading to listing, examinations are conducted by the lead underwriting securities firm and the stock exchange. The examination by the lead underwriting securities firm is conducted based on the rules for underwriting of securities established by the Japan Securities Dealers Association, while the exchange's examination is based on the "Securities Listing Regulations," and the listing eligibility is determined. Both are conducted in accordance with the formal and substantive examination standards stipulated in the exchange's "Securities Listing Regulations."
The formal examination involves a quantitative assessment, where requirements such as meeting numerical standards for assets, profits, and the number of shareholders must be met. For example, in the Tokyo Stock Exchange Standard Market, criteria are set such as having 400 or more shareholders, 2,000 or more units of outstanding shares, and a total market capitalization of outstanding shares of 10 billion yen or more.
On the other hand, the substantive examination is a qualitative assessment based on standards related to a company's continuity, profitability, soundness, and appropriateness of disclosure. These substantive examination standards consist of five items, and there are slight differences depending on the market where listing is desired. For instance, both the Prime Market and Standard Market include "continuity and profitability of the company" in their examination, but the Prime Market requires "having a stable and superior profit base and continuously conducting business," whereas the Standard Market requires "having a stable profit base and conducting business continuously." When undergoing examination in accordance with these standards, ensuring compliance and proper support is necessary to eliminate doubt. For example, businesses that may violate laws are judged to lack stability. Here, the expertise and support provided by lawyers are indispensable.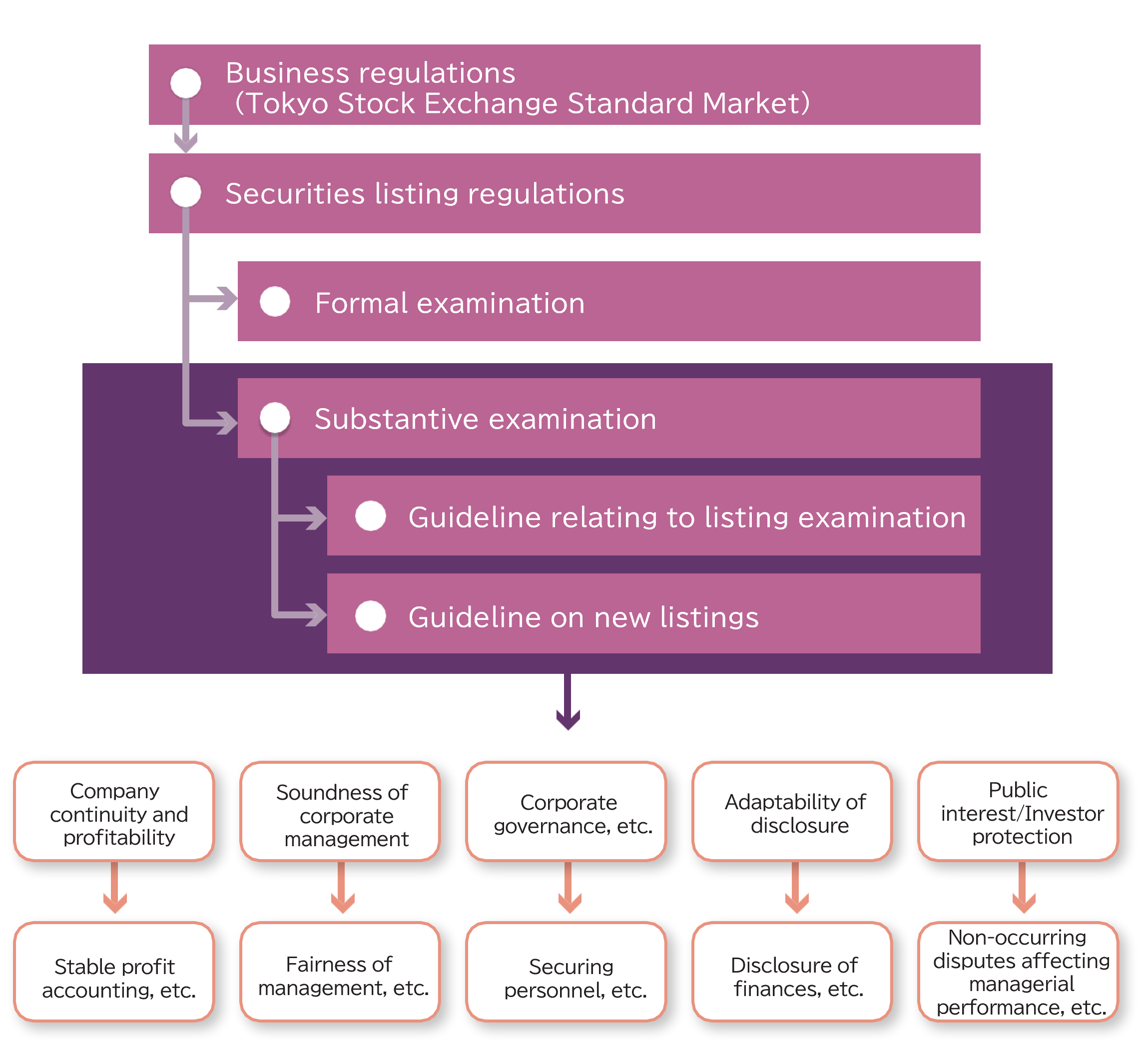 Roles of Lawyers in IPO Support
In supporting an Initial Public Offering (IPO), law firms have multifaceted roles to play.
First and foremost, they must confirm whether the business model of the company aiming for listing complies with administrative regulations and related laws, taking appropriate actions if there are concerns of violations. Coordination with the supervisory authorities of the industry, administrative institutions, and self-regulatory organizations is also essential. To do this, it is necessary to respond quickly to amendments in relevant laws and guidelines and take appropriate measures.
Various legal documents are prepared for an IPO, and law firms are also required to verify the appropriateness of these documents. If there are regulations that are not yet fully developed, they will be involved in formulating them. The examination and verification of the capital structure of the company itself and its affiliated companies are also necessary.
Furthermore, the law firm must check the contractual relationships with business partners and the property rights owned by the company itself (such as credit-debt relationships and intellectual property rights). Building and operating an internal control system, creating various rules, and ensuring compliance are also roles of the law firm. In addition, when disputes or troubles arise or scandals are uncovered, the law firm must promptly respond by investigating facts, analyzing issues, pursuing responsibility, and formulating measures to prevent recurrence.
In this way, law firms provide extensive support from the legal aspect in IPO assistance. They ensure the legality and transparency of the business and cooperate towards achieving a smooth listing.
Internal Controls

Our firm has handled the matters related to internal controls in many IPO support cases. We have experience and expertise in a wide range of areas, including the design and evaluation of internal controls, risk assessment, process improvement, and the execution of audits.

Regulations

During the preparation for listing, it is necessary to create various regulations that affect the details of corporate activities. This includes not only provisions such as articles of incorporation, board of directors regulations, and work rules but also organizational management regulations, job segregation regulations, job authority regulations, seal (etc.) management regulations, and travel expense regulations.

Legal Opinion Letters

Among the diverse listing examination criteria, there is an item called "Continuity and Profitability of the Company." In some cases, a legal opinion letter by a lawyer is required to confirm that there is no risk concerning the continuation of ongoing business after listing, such as the necessity of permits and approvals for the business that the company operates.

Tax and Labor

It is essential to ensure that taxes and labor matters are appropriately managed and that there is no possibility of disputes arising or so-called "hidden liabilities." Along with the establishment of regulations, it is necessary to conduct what is known as labor due diligence and to respond if any trouble occurs unexpectedly.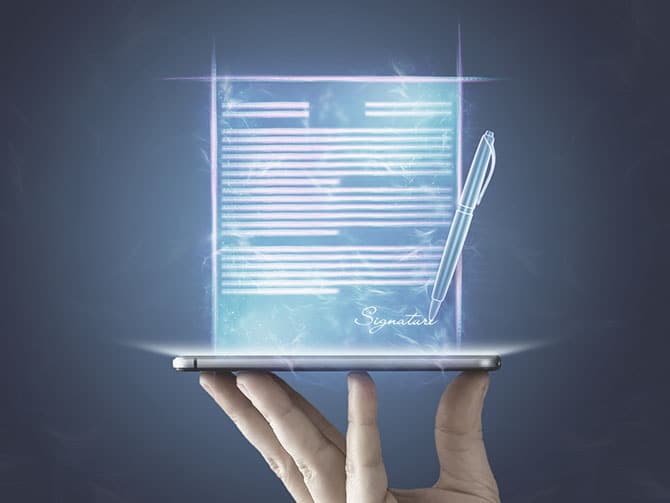 Contract Drafting and Review
During IPO preparation, it is common to require a review of previously executed contracts.
MONOLITH LAW OFFICE acts as legal counsel for Japanese IT and startup companies in connection with various types of contracts, including outsourcing contracts related to their outsourced operations, utilization and agency contracts related to their products, investment contracts and shareholder agreements as equity-related contracts, and employment contracts as contracts related to the company.
Ensuring Compliance with the Latest Legal Revisions for IPO Preparation
Prompt and appropriate response to legal revisions is crucial in IPO preparation. Monolith Law Office utilizes proprietary systems and continuous monitoring to stay updated on the latest information and regulatory changes related to numerous laws, enabling us to provide informed advice. We swiftly adapt to the necessary procedures and document creation resulting from legal revisions, offering support to minimize our clients' legal risks.
We cover a wide range of laws, including but not limited to: Company Law, Electronic Notification Regulations, Company Law Enforcement Regulations, Company Calculation Regulations, Commercial Law, Act on Punishment of Organized Crimes and Control of Crime Proceeds, Financial Instruments and Exchange Act, Rules on Terminology, Format, and Preparation of Financial Statements, Act against Unjustifiable Premiums and Misleading Representations, Patent Law, Copyright Law, Subcontract Act, Consumer Contract Act, Product Liability Act, Act on Specified Commercial Transactions, Whistleblower Protection Act, Civil Code, Act on the Protection of Personal Information, Electronic Contract Act, Act on Settlement of Funds, Act on Protection of Depositors, etc.
Additionally, we cover laws related to electronic signatures, prohibitions on unauthorized access, disclosure of sender information by specified telecommunications service providers, Basic Act on Cybersecurity, Specific Act on Electronic Mail, Labour Contract Act, Labour Standards Act, Industrial Safety and Health Act, Minimum Wage Act, Act on Securing Equal Opportunity and Treatment between Men and Women in Employment, Act on Childcare and Family Care Leave, Act on Promotion of Employment of Persons with Disabilities, Part-Time Labor Act, Act on the Use of Numbers to Identify a Specific Individual in Administrative Procedures, Income Tax Act, Corporate Tax Act, Consumption Tax Act, Local Tax Act, Foreign Exchange and Foreign Trade Act (Foreign Exchange Law), and Export Trade Control Order.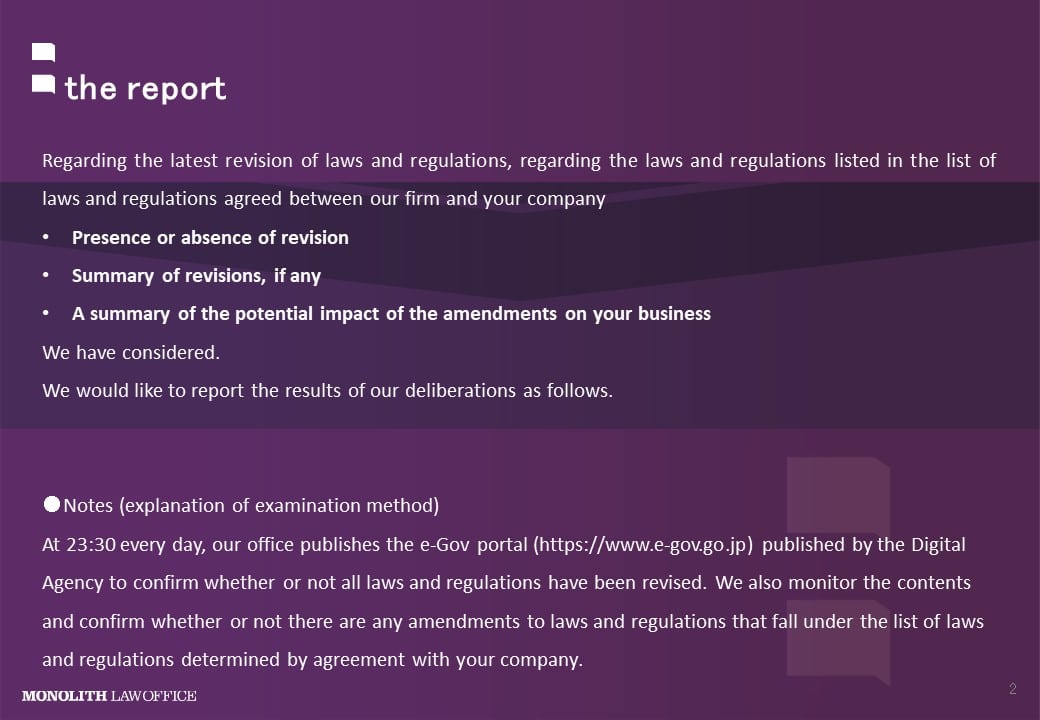 Legislation Monitoring
Foreign companies must respond quickly and appropriately to changes in Japanese laws and regulations in order to continue growing their business in Japan.
In addition to general corporate legal advice such as drafting and reviewing contracts, drafting and revising various regulations, we also provide legal services for companies running their businesses in Japan. This includes monitoring the revision of laws and regulations in Japan, which are listed in a pre-prepared list of laws and regulations relevant to the client's business, to determine whether there have been any revisions. If so, a summary of those revisions, as well as a summary of the impact that the revisions may have on the client's business will be provided to our clients.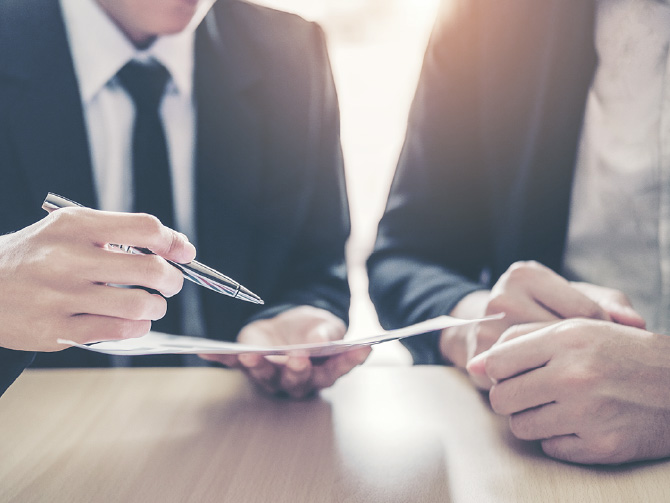 Legal Due Diligence Support
Legal Due Diligence (DD) refers to the process of collecting legal documents, identifying legal issues, and evaluating risks, which are essential for a company's IPO preparation. If significant legal issues are identified, it may lead to withdrawal of the IPO application or conditional listing. With a team of 17 attorneys, our firm conducts thorough assessments of legal issues and risk evaluations, providing support to minimize our clients' legal risks. Additionally, we can assist in the preparation and modification of necessary documents based on the findings of the legal due diligence. Recognizing the importance of legal due diligence in IPO support, our firm is dedicated to assisting clients in achieving a successful listing.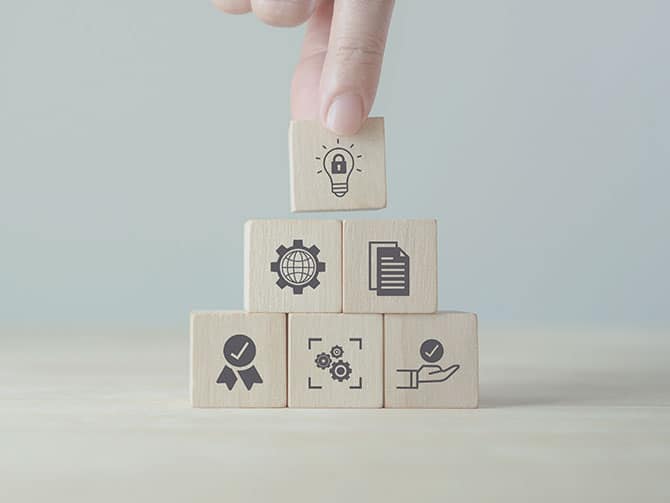 IT
MONOLITH LAW OFFICE excels in providing specialized legal assistance for a wide range of IT-related technologies and businesses. With a deep understanding of cutting-edge fields such as system development, smartphone apps and games, Internet advertising, blockchain, and AI technologies, we offer comprehensive legal solutions tailored to the unique needs of our clients.
Drawing upon our extensive expertise in IT-related legal matters, we provide IPO support services in Japan. Our in-depth knowledge and experience enable us to navigate the complexities of the IPO process, ensuring compliance and maximizing success for our clients. Trust in Monolith Law Offices for top-notch legal support that aligns with the evolving demands of the IT industry.
Fee Structure
In certain instances, we may consider accepting a dispute or lawsuit with an initiation fee and a contingency fee. For more details, please feel free to contact us.

Drafting Contracts

from

$500

to $2,000 or more

The pricing structure is subject to variation based on the type and quantity of contracts. We are pleased to offer a preliminary estimate upon inquiry, thereby encouraging you to reach out to us for further details.

We offer a wide range of services including company formation, contract review, legal opinion, case review, or research letter. Should you have any inquiries or concerns, we cordially invite you to contact us and our knowledgeable team will be happy to assist you.